. KEFALONIA SUN & SEA WEDDINGS .
WHAT OUR COUPLES SAY


"OUR PERFECT GREEK WEDDING"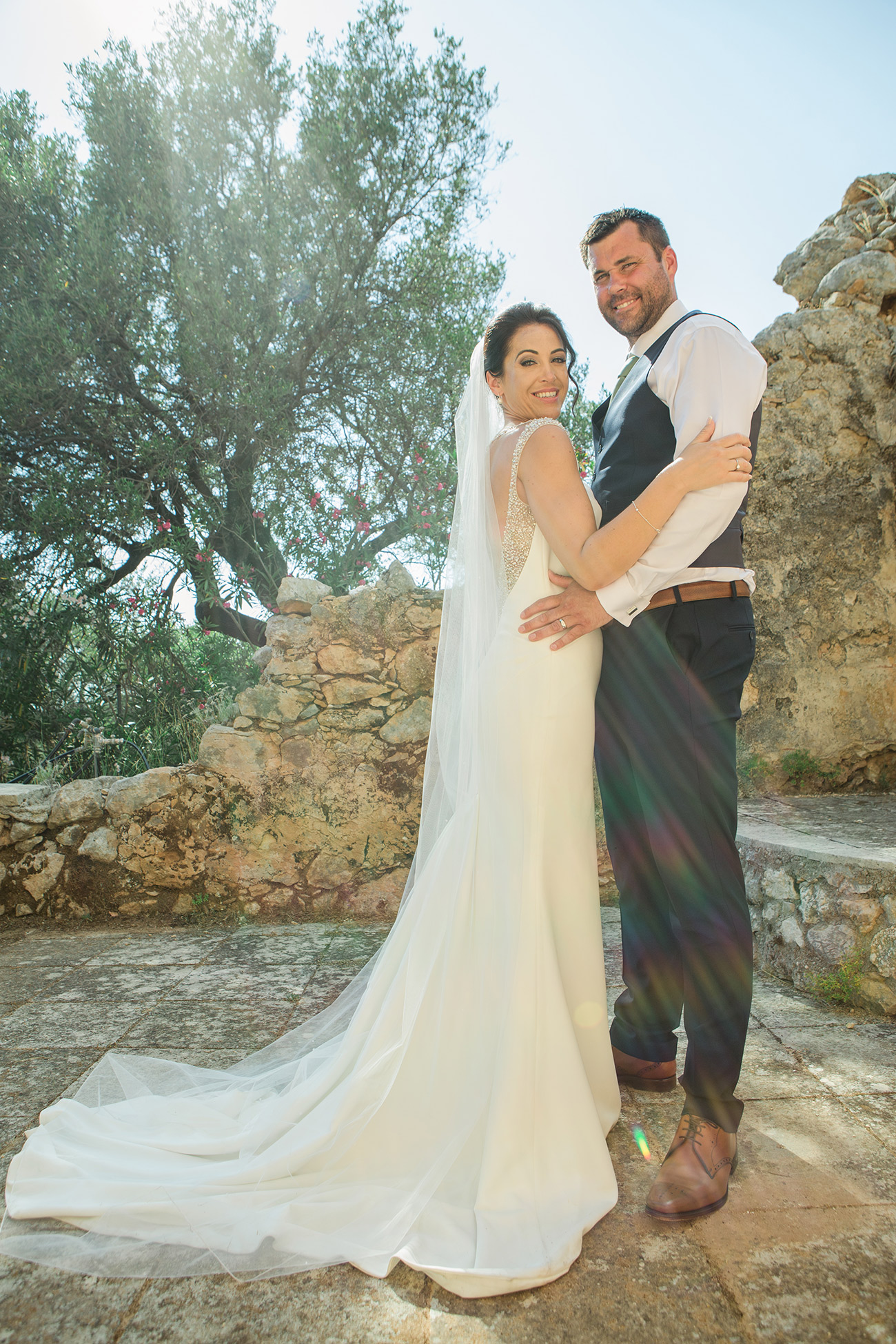 I don't know where to start...
I have been planning our perfect greek wedding for 2 years now. Having looked at various wedding planners and venues we decided to have it at Andromeda. It was the best decision we ever made!!! I can not speak highly enough of Kostas and Annie. Kostas through the whole 2 years of emails, messaging and planning could not do enough for us. Although busy himself with lots of weddings he was always so prompt at replying. When planning a wedding abroad, you think it would be harder, more difficult but this was not the case and Kostas took the stress and worry out of that. He gained our trust and would go above and beyond for us. Nothing appeared too much trouble and anything we wanted, we got.

Our wedding was perfect from start to finish. It ran so smoothly. We were happy and guests were happy. The view, the people, the greek culture, the food. What is not to love!! You can't help but fall in love with the greek way of life. Our family and friends love a good party and kostas and the dj kindly played music until early hours of the morning. We didn't want it to be over and we literally danced the night away. We opted to pay the additional cost for the fireworks during the first dance and what a display it was. It was definately worth it and made the moment that bit more special. Annie took care of the flowers, decorations etc and i had the most beautiful bouquet that was everything i wanted. Sofia (make up) and Jayne (hair) were brilliant and tailored to what i wanted. My hair and make up lasted the entire day. The videographer and photographer (Maria) were brilliant and were there throughout. I can't wait to see our photos. Maria told me to relax, embrace the moment and enjoy the day and although excited, it put my nerves at ease. From that moment i did exactly as she told. The food was amazing. An amazing selection of food and plenty of it too. It was delicious and the same can be said for our beautiful wedding cake. (I'm glad i saved some room) Some of our guests had certain dietary requirements which they happily catered for and they had really good options. We had the traditional greek dancers which was such a beautiful touch and got everyone up dancing. We also had the Greek Bouzaki players/singers who sang when i walked down the isle with my dad. (I could cry thinking about it.) It was so special and so lovely to have greek traditions within our day.

All our guests are still talking about the day now, even though it was over 2 months. It truly was the most magical day. We both have the happiest memories of our wedding day and it was everything we could of wished for... and more!!!!

Honestly from the bottom of our hearts THANK YOU Kostas and Annie for giving us the most amazing wedding day. We have so much to thank you for and it wouldn't of been possible without you.

We will definitely return to Andromeda next June to celebrate our first wedding anniversary and i am sure we will be returning for many years after xxx
CHARLOTTE & GREG
---
"Our Wedding Planners Kostas and Annie"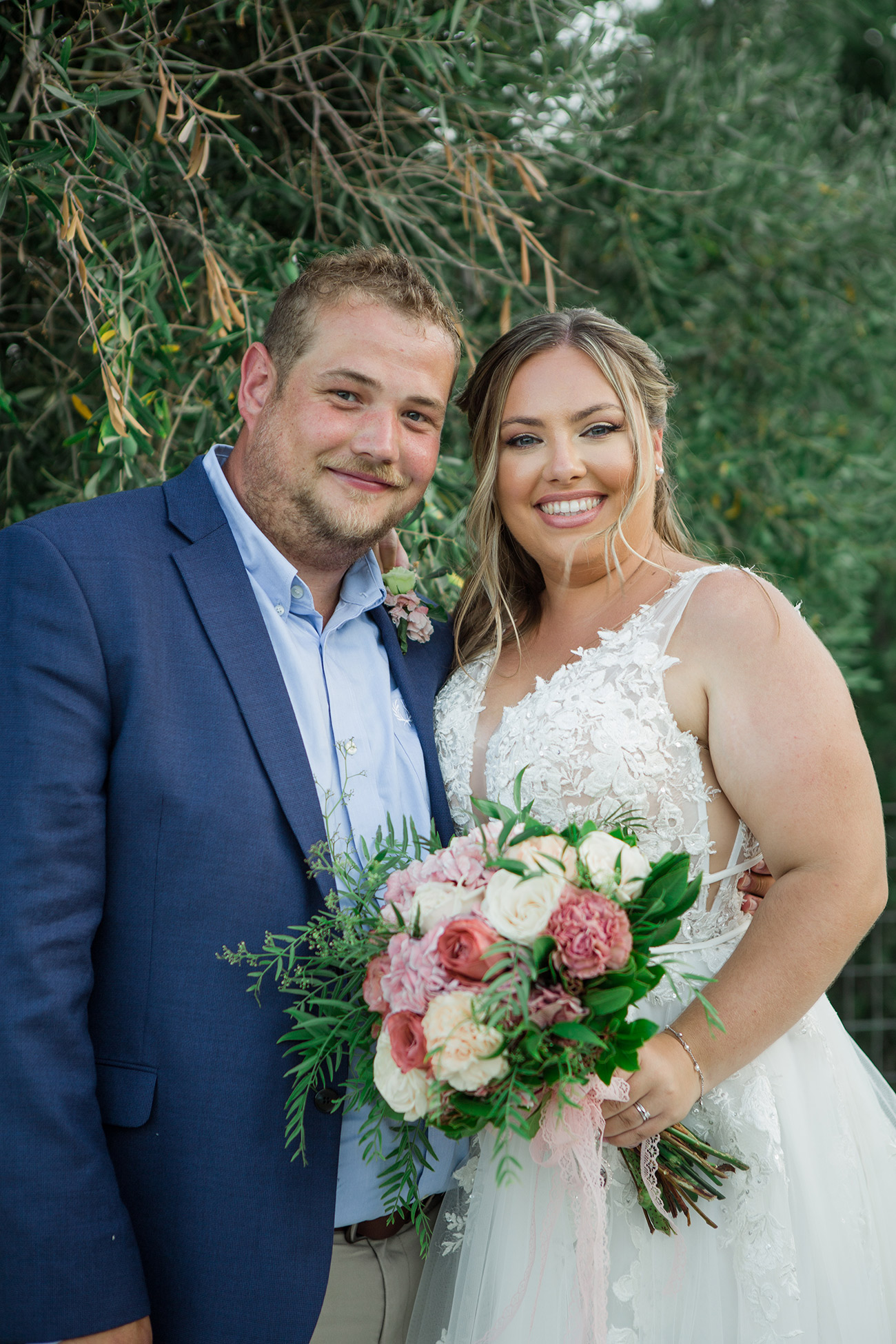 We first reached out to Kostas and Annie in 2020 after we got engaged. We knew we wanted to get married in Kefalonia and after some research we came across Kefalonia Sun and Sea Wedding planners!
We finally had our wedding this July after having our plans cancelled last year. I truly and honestly cannot recommend Kostas and Annie enough. If you are looking for two genuine, down to earth people who are accommodating in every way possible and take all the stress out of your wedding planning then these are your guys!
Both Kostas and Annie are such lovely people and it was a pleasure to finally meet them. We had a very small and intimate wedding but they made it so special. They literally did everything for us. The day itself was so relaxed and even when we had last minute changes they accommodated these with ease (upon arrival we changed the ceremony time to later in the day for when it was cooler). They even had fresh flowers as confetti for us which I thought was a lovely touch. Our photographer was also such a lovely lady. Maria couldn't do enough for us. She took full advantage of the day to get as many photographs with us as possible and she put me at ease the entire time.
Kostas and Annie will take care of absolutely everything for you. They guided us through the process so detailed via email. All we had to do was provide them with the information they required and post our paperwork to them. It really couldn't be simpler if you tried. I lost track at how many emails i sent them back and forth confirming things and they were always on hand!
If you are looking for your dream wedding in Kefalonia without all the hassle and stress then these are the wedding planners for you.
I promise you will not regret it!
JESSICA & ALEX
---
"Most Amazing Wedding Venue"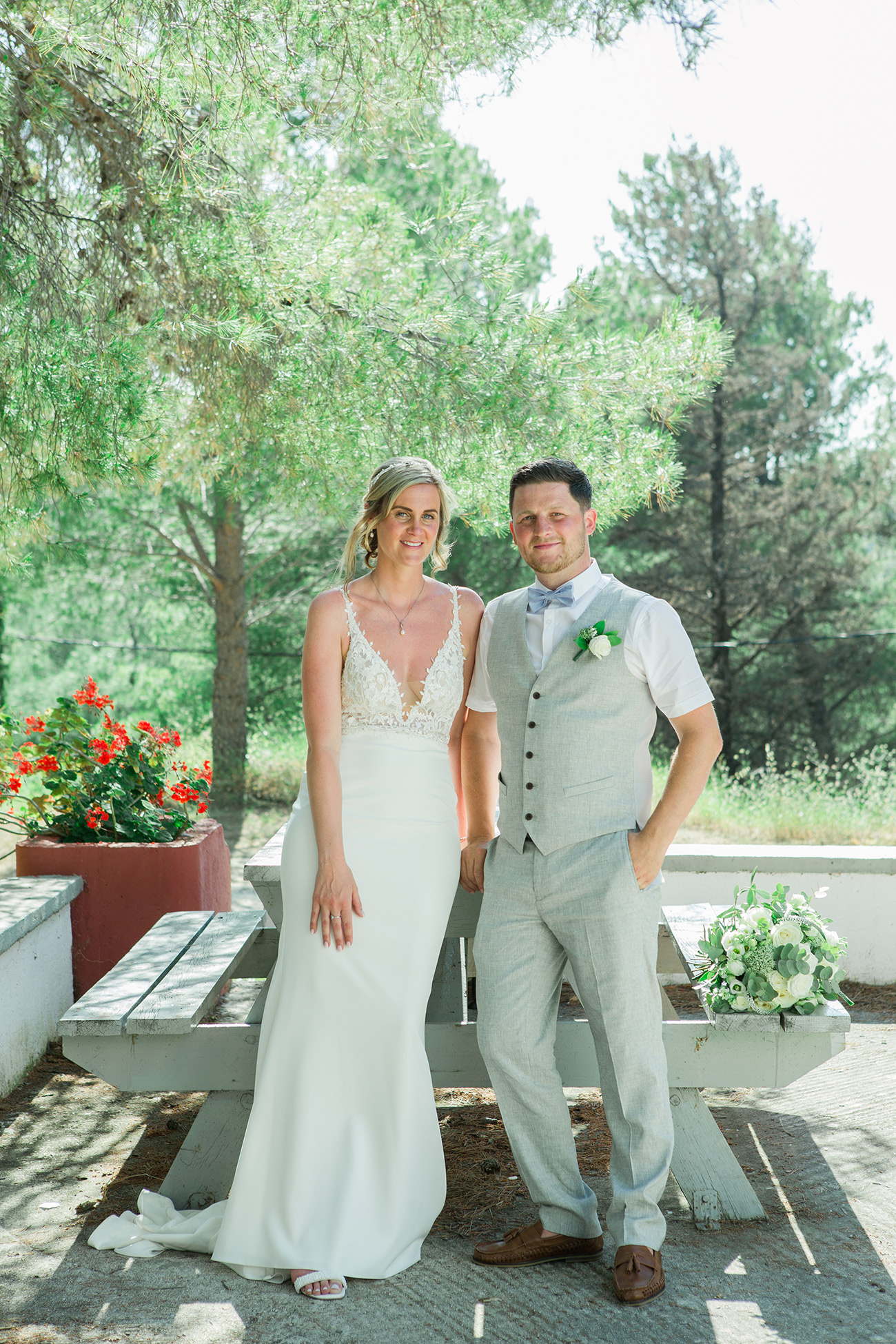 We haven't ever written a review but we couldn't not write a review for the Andromeda and Kostas and Annie!
We found the venue online and read the reviews and were keen to see it so we flew out to meet Kostas and Annie and they were both so lovely, helpful and we felt the Andromeda was the perfect setting for our wedding.
Throughout planning the wedding they were both brilliant! I felt I sent a lot of e-mails but they always responded very promptly and were so helpful particularly with the legalities, you could tell they knew exactly what they were doing and it just made it so easy!They never made me feel I was asking too much and always put me at ease, they just gave us the impression they knew exactly what we wanted.
I sent alot of photos of things off Pinterest/Instagram of the ideas of what we liked and they managed it perfectly and paid a lot of attention to detail which I really appreciated.
The lady who carried out the ceremony was also great and contacted us with enough time for us to write our own vows and put it all together!
When we arrived in Kefalonia we had our pre-wedding meeting and again they got everything right !
On the day it was all so perfect! Kostas and Annie did an amazing job, organising it all and everybody mentioned how well planned and thought out it all was and how there experience and knowledge shone through!
The Andromeda was the perfect venue for us, and the package we had suited us and our guests. The food was AMAZING including the Cake, I was so happy as it was something I was a bit worried about as we hadn't sampled it before hand and I know in the UK we would have but we couldn't fault the food at all - it was the best food we had all holiday !
All the staff were very friendly and attentive and the entire day ran so smoothly.
We will be forever grateful to Kostas, Annie and their team for helping make our dream day a reality and the Andromeda will always have a special place in our hearts!
The only thing I would have perhaps liked is fireworks - I don't remember knowing this was an option but we saw a wedding on there a few nights before ours and they had fireworks so I would say if there's anything you want at all ask as I think they can do pretty much anything.
All In all we would recommend it to anyone to get married abroad and for a stress free wedding I'd 100% recommend Andromeda ❤️
JANINE & MICHAEL
---
"Thank you for our wonderful wedding day!!!"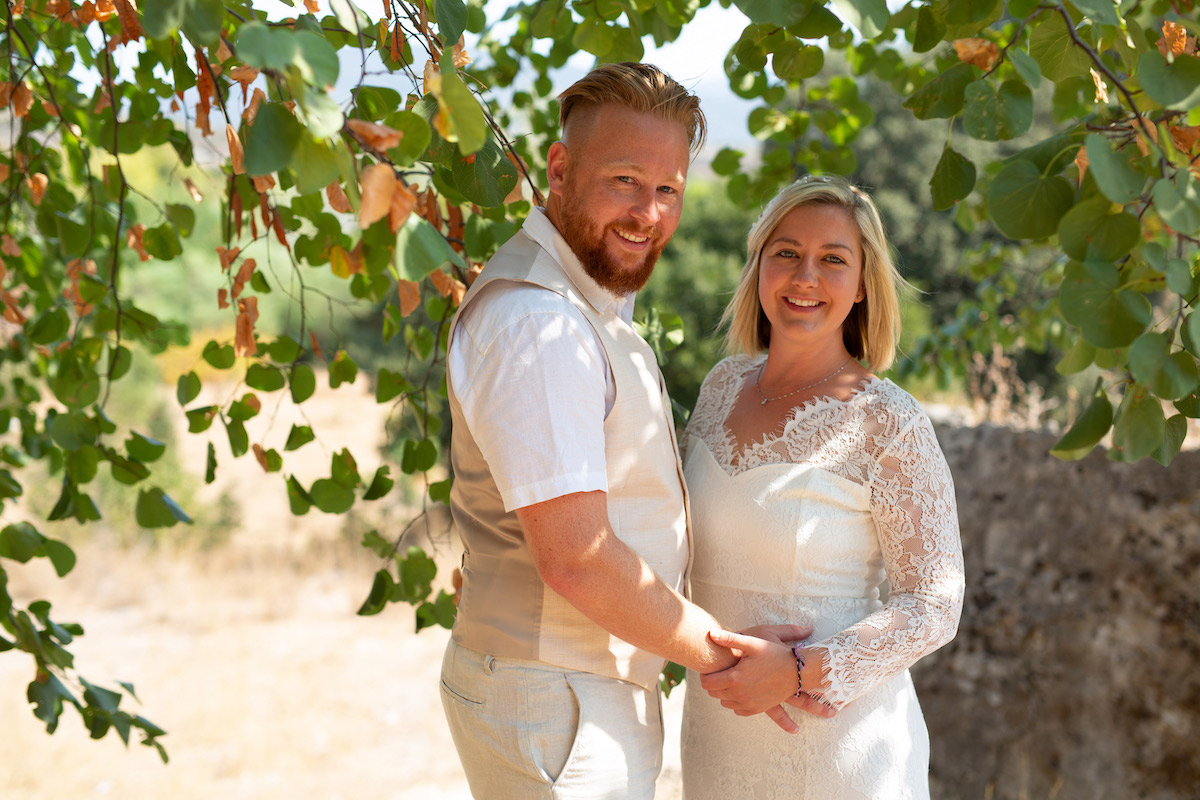 We booked a holiday to Kefalonia and decided to look at how we could also marry there. After a quick google search we came across kefalonia sun and sea weddings and never looked back. Kostas and Annie have been fantastic throughout, it was just the two of us and they made the whole process as easy as possible for us . Even choosing my wedding bouquet which was truly beautiful. They chose a brilliant photographer who we had a lot of fun with and we cannot wait to get the pictures. Thank you so much for ensuring our day was perfect and a day we will never forget THANK YOU xxx
LIAM & LAUREN
---
"Amazing Wedding Planners"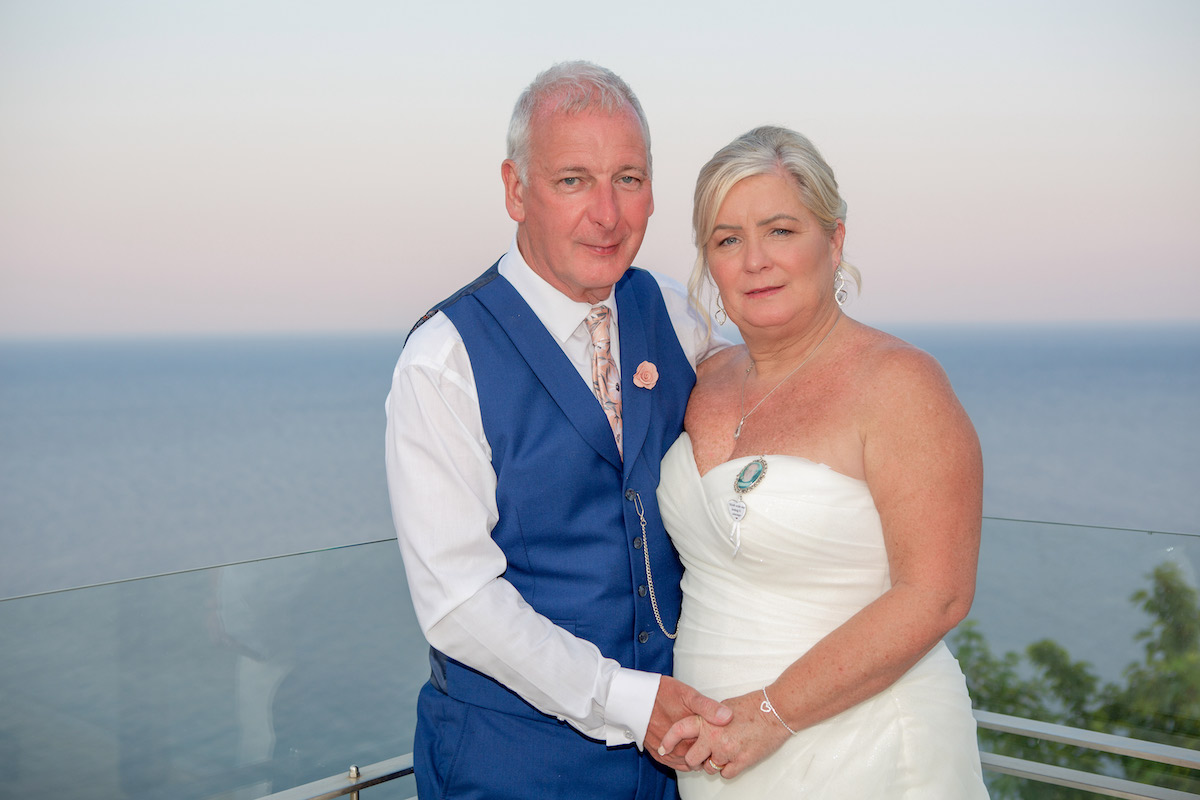 After a proposal in Santorini we booked a holiday to Kefalonia and instantly fell in love with the Island so when we decided to get Married we knew that Kefalonia would be the perfect location for our wedding. We contacted a few wedding planners on the island but after an exchange of emails with Kostas & Annie at Sun & Sea Weddings Kefalonia we instantly knew what they could offer would be perfect for us. When you book a wedding abroad you do worry that all will be ok as the planning is mostly out of your reach, but with Sun & sea weddings you do not need to worry. Kostas and Annie were always on hand to answer and reassure us with any questions/concerns that we had and they have a wealth of knowledge and ideas. They provided us with a step by step guide to all our legal paperwork and this was greatly appreciated as we would have been completely lost and confused by it but all was made so easy by them. (believe me we caused Kostas more stress than he needed with issues that we had, but all were greeted with a smile and a 'don't worry, it will be ok) We were lucky that our wedding went ahead as planned but throughout the months leading up to the day we had so much uncertainty as to whether we and our guests would be able to travel and the wedding go ahead but Kostas kept us very positive when we were feeling low. Kostas & Annie are so accommodating and easy going so we knew we'd made the right choice by booking with them . We did manage to get a cheeky break during Covid and got to Kefalonia and met Kostas.(what a gentleman) Whilst there Kostas arranged for us to meet with the Florists so that we could see their work and we were able to pick our flowers. As part of our package we had hair & makeup included. Both Jayne (Hairdresser) & Sofia (makeup) contacted me directly a few months before for any ideas/styles that I would like and this put my faith in them both. On the actual day they were both amazing. Maria, our photographer was also amazing, she made everyone feel relaxed and she was a pleasure to work with. I am not the easiest to work with as I hate having my photo taken but she made it all seem so natural. Throughout the planning and the wedding day we felt confident that Kostas & Annie would deliver exactly what we wanted - communication was excellent and the day certainly met our expectations and more. Our wedding was beautiful and was a day we will not forget, It was everything we dreamed of, .and for this we thank you. If you are thinking of getting married in Kefalonia I would certainly recommend getting in touch with Kostas and Annie at Kefalonia Sun and sea weddings - I'm sure they will help make your wedding dreams a reality! I cannot thank Kostas & Annie enough for arranging our wedding and making it so special. We did not have our wedding at Andromeda Restaurant but we did go for dinner, Absolutely stunning location, food and views. You will not be disappointed.
DAVID & PATRICIA
---
"The perfect wedding day!"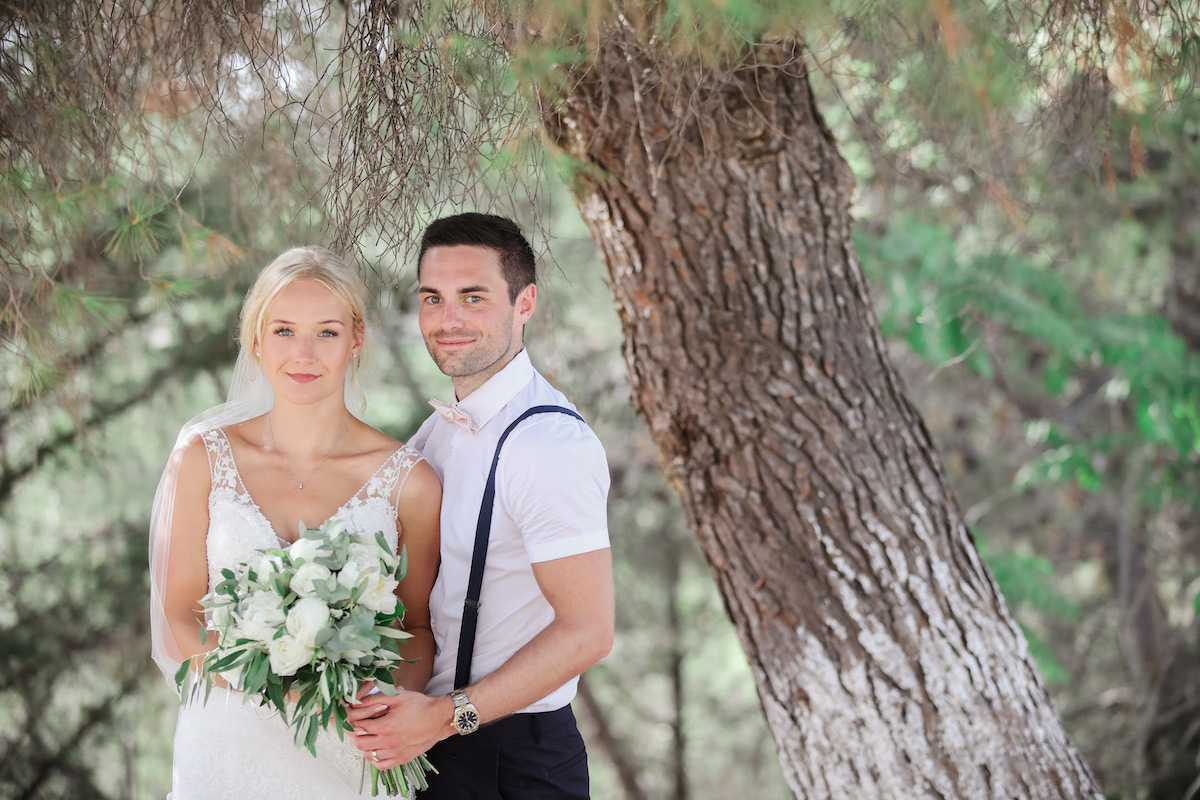 The most incredible wedding day, organised by the most incredible wedding planners in Kostas & Annie, in the most incredible venue at the Andromeda Centre! We got married at the Andromeda Centre at the start of August 2021, after first making the decision to get married there 2 years earlier in 2019, before covid! We had never previously visited the Andromeda but fell in love with the photos so made the decision to get our date booked in. We had planned to visit in 2020 but due to Covid were unable to do so. So we put our full trust in Kostas & Annie in creating our perfect day after providing all our ideas for the day over video call and email. In the 2 year build up to the wedding the communication from Kostas & Annie was excellent, and they were always at hand to answer our questions and reassure us when the covid doubts kicked in! The majority of time replying within a day or two! They were also always so understanding and helpful given the continuous changing guest numbers right up until just before the wedding. When we finally arrived in Kefalonia, we first met Kostas & Annie at the Andromeda Centre at our pre wedding meeting. Instantly any remaining worries went and all the stresses were put to ease and went away! The wedding day itself was incredible and better than we could have ever imagined! The venue, flowers and decorations were stunning. The food was also amazing! We went for the BBQ option and all guests commented how good the food was and the best they had out in Kefalonia! We really cannot speak highly enough about every aspect of the day which Kostas and Annie put together for us! Every little attention to detail was seen to and more! We had the most amazing wedding day and created memories to last a lifetime together and with all our guests. Thank you again so much Kostas & Annie! We can't wait to be back to visit you in the future!
LUKE & HOLLY
---
"Our amazing Wedding at Andromeda"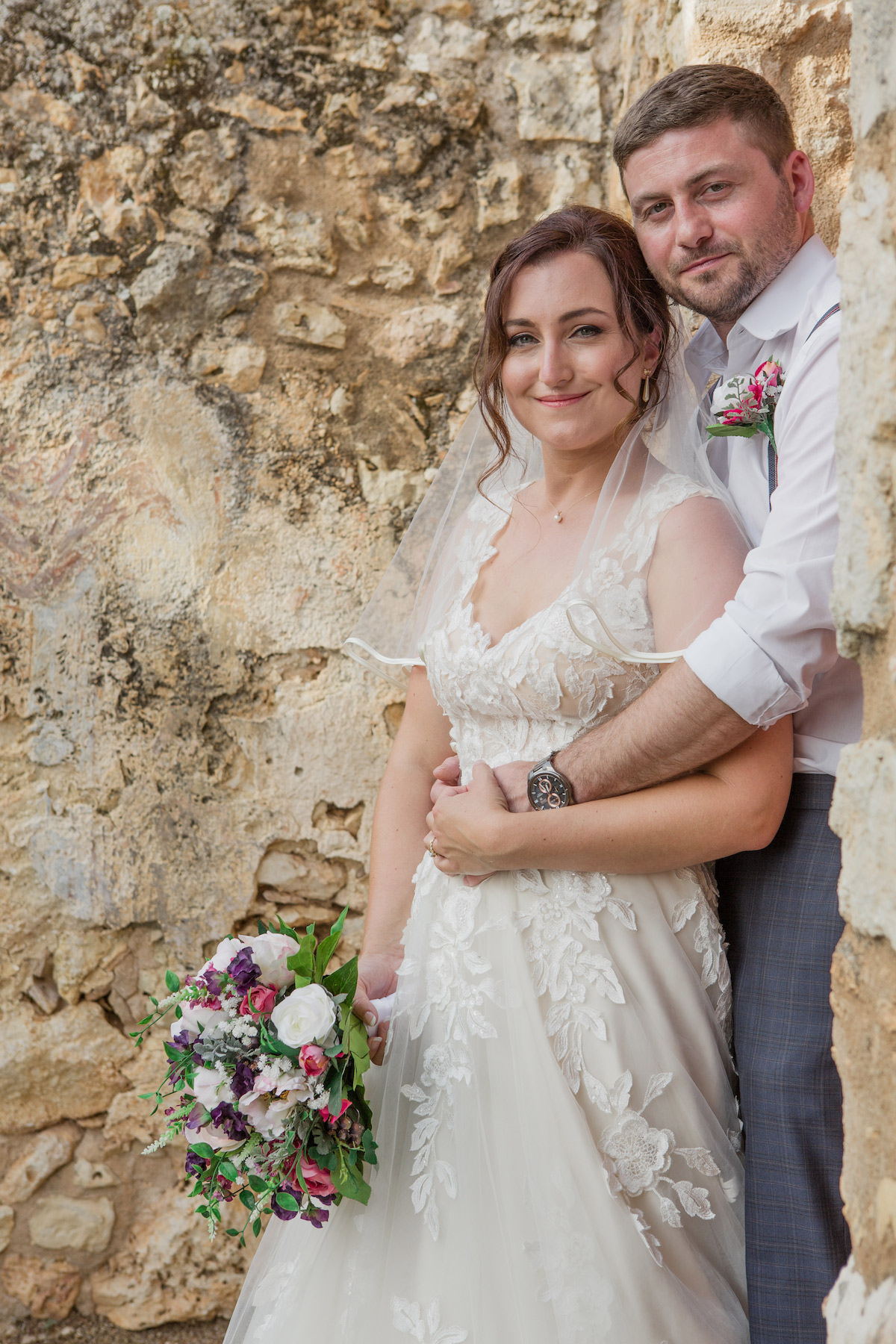 We recently got married at the Andromeda centre which was all arranged by Kostas and Annie through Kefalonia Sun and Sea Weddings. The communication throughout was outstanding. There were several changes due to covid and nothing was too much trouble for them. All our requests were dealt with promptly and they really put our minds at ease. The wedding day itself was wonderful and we wouldn't have changed a thing. The food was plentiful and tasted out of this world and all guests commented on how delicious it was. They also catered for our young son who is a very fussy eater. The setting was just beautiful, overlooking the sea below and although we stayed outside, indoor was lovely too with a very clean impressive bathroom. The staff couldn't have done enough for us and were very attentive. A special shout out to the photographers as well who were also outstanding. We haven't got our photos yet but they went over and above to take lots of different types of photos. For anyone thinking of going to the Andromeda for a meal or of getting married there, we would highly recommend you going. You won't be disappointed!
ASHLEY & KELLY
"PERFECT LOCATION, PERFECT WEDDING PLANNERS"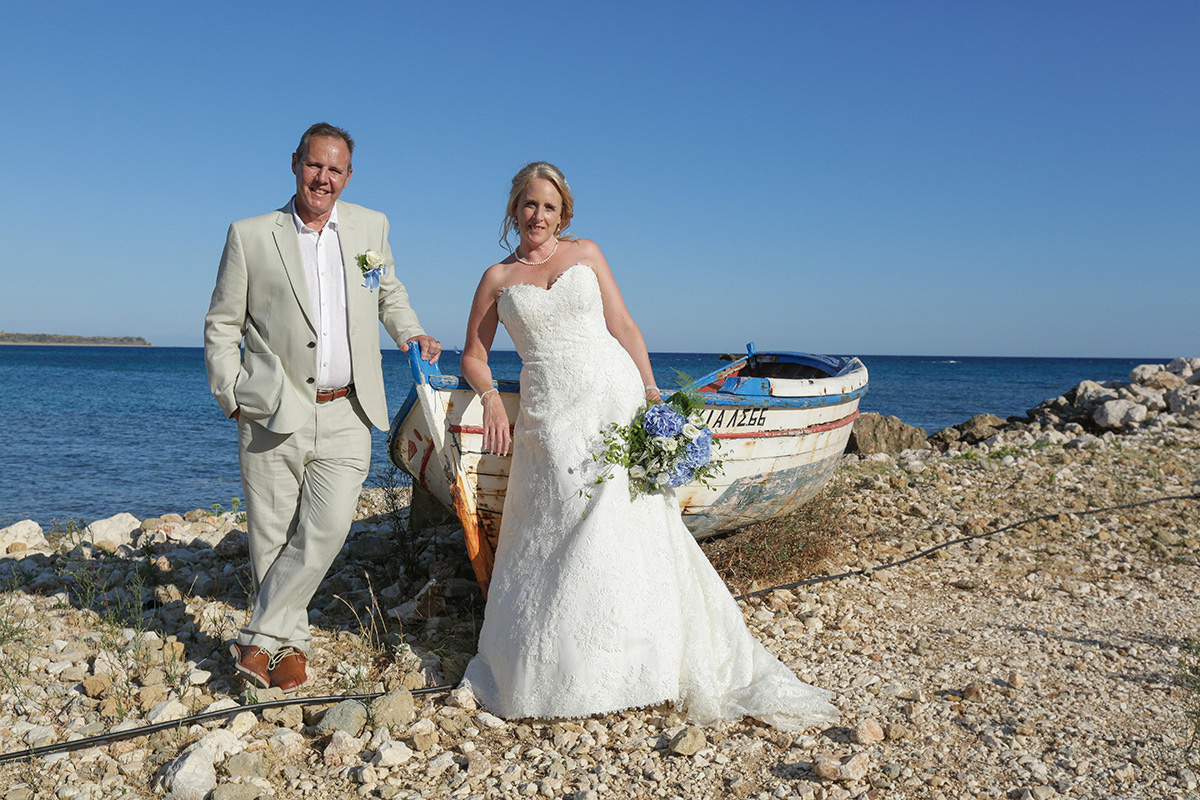 I cannot thank Kostas & Annie enough for arranging our wedding for us and making our day so special. I had contacted half a dozen wedding planners until I came across them who made me feel like they were really listening to what we wanted.

Our wedding was beautiful but only small but it still didn't matter how many times I emailed them asking for different things, or because I had changed my mind (again!) or just to check for the 10th time on something, Kostas & Annie were always polite, enthusiastic and more than happy to help.

Sometimes I would email at 11 at night and still get replies straight back. They work so hard to make sure that your wedding is as perfect as you picture it or want it to be and are genuinely passionate about making it happen.

A week after our wedding we attended the Greek night where Kostas presented us with our video from the wedding and even put us up for the night without charge. He also provided things at the wedding for free, for example extending the Photographers time with us at no extra cost.

These kind gifts/gestures are what makes working with them a pleasure and shows you just how caring and kind these people are and how much it means to them.
DAVID & EMMA
---
"KEFALONIA SUN AND SEA WEDDINGS REVIEW-AMAZING ☺"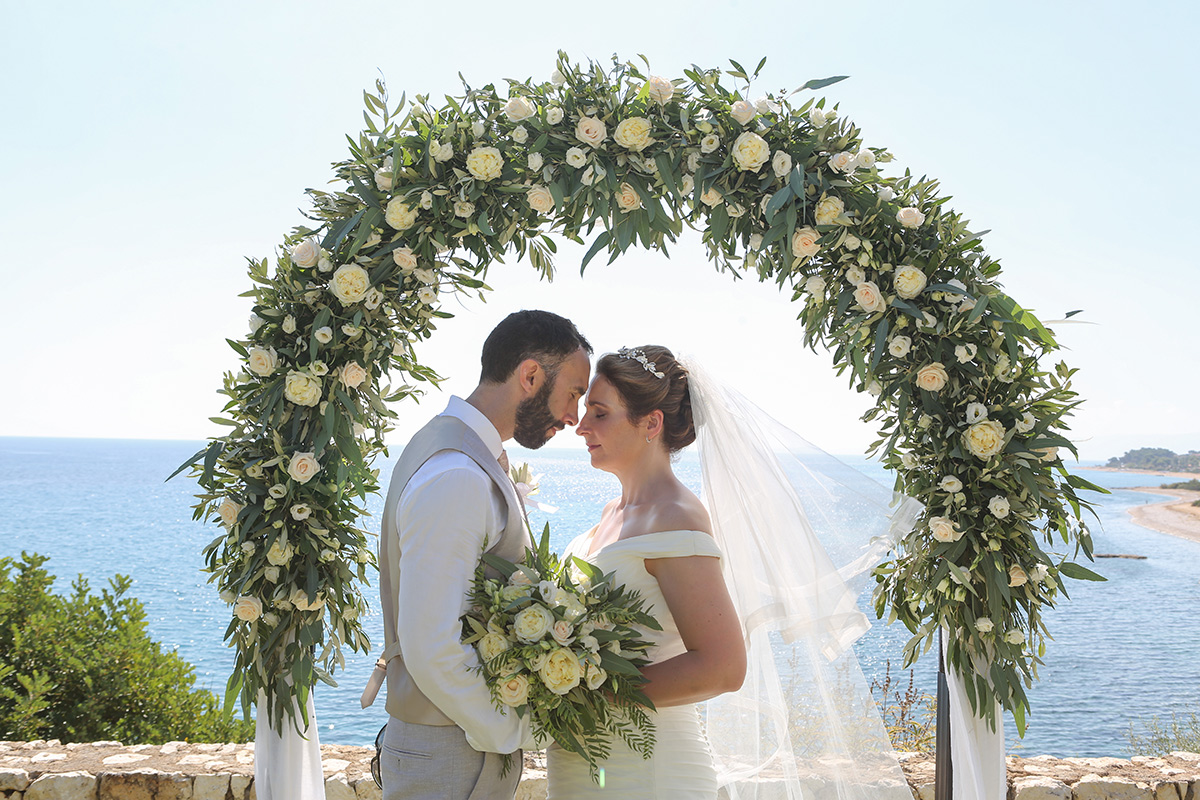 Kostas & Annie fulfilled our brief far beyond our expectations providing a wonderfully classy wedding day on 30/09/19 that will always be cherished by us and our family. From the first contact to hand delivering our wedding album just before we left Kefalonia, Sun & Sea Weddings were professional and friendly. We really couldn't have asked for more and felt that it was money very well spent and we wouldn't hesitate to recommend them.


We sent many emails over the 2 year build up and helpful suggestions were made throughout which really helped us to shape the final plan. Kostas is a genuine and kind person who went above and beyond to assist us and will always be very grateful for this. Paperwork requirements for the official marriage were clearly explained at every stage ensuring that everything went smoothly with the town hall ceremony a couple of days before the grand event.


Only the highest quality services were employed for hair, catering, florist, cake, celebrant & music etc. We must mentioned how amazing the cake tasted, just wow! We would definitely recommend having musicians at the ceremony (guitar & mandalin) as this really added to the atmosphere. Annie also has great attention to detail. 


So to conclude, thank you so much for making our wedding day the success it was, we very much appreciate your hard work and dedication. Hope to see you during future visits to Kefalonia :-)
DAN & GEMMA
---
"MY WEDDING BEYOND MY DREAMS!"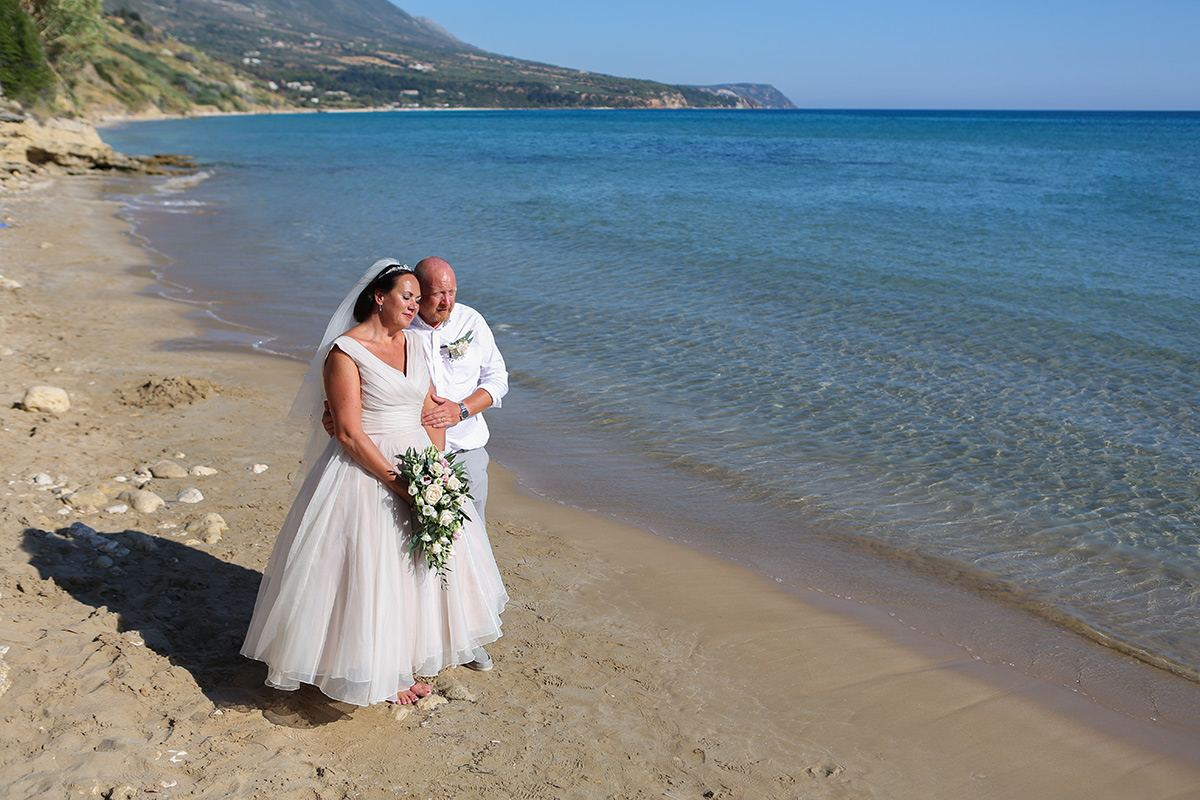 From the day we met with Kostas and Annie last year all our wedding stress disappeared. We had a limited budget but they made sure will had a billion dollar wedding, it was priceless.

They took care of all the complex paper work, with very clear timely instructions for our actions. Emails were responded to quickly and nothing was too much trouble. They kept us updated with costs (which were so reasonable).

When we finally flew out with 22 guests we met with them 2 days before the wedding for final catch up, they were so kind and reassuring. Last minute questions and additions were included with no fuss (or charge)! they arranged transport from resort to our beautiful wedding beach, they arranged Maria the best photographer ( we were presented with a beautiful album before we flew home 3 days later).
The celebrant was wonderful, our readings, vows and speeches all factored in. Annie totally understood my concept and added in perfect ideas of her own, my flowers surpassed my expectations (again incredible value), my cake was simplicity and delicious. The wedding breakfast was relaxed and scummy something for everyone and the local wine flowed. Canapes and prosecco followed the ceremony - we were in paradise! I cannot recommend them enough, all our dreams were surpassed.
Eternally grateful! not one thing i can suggest to improve it was perfection.
CLIVE & LEIS
"SPECTACULAR WEDDING DAY & VILLA STAY"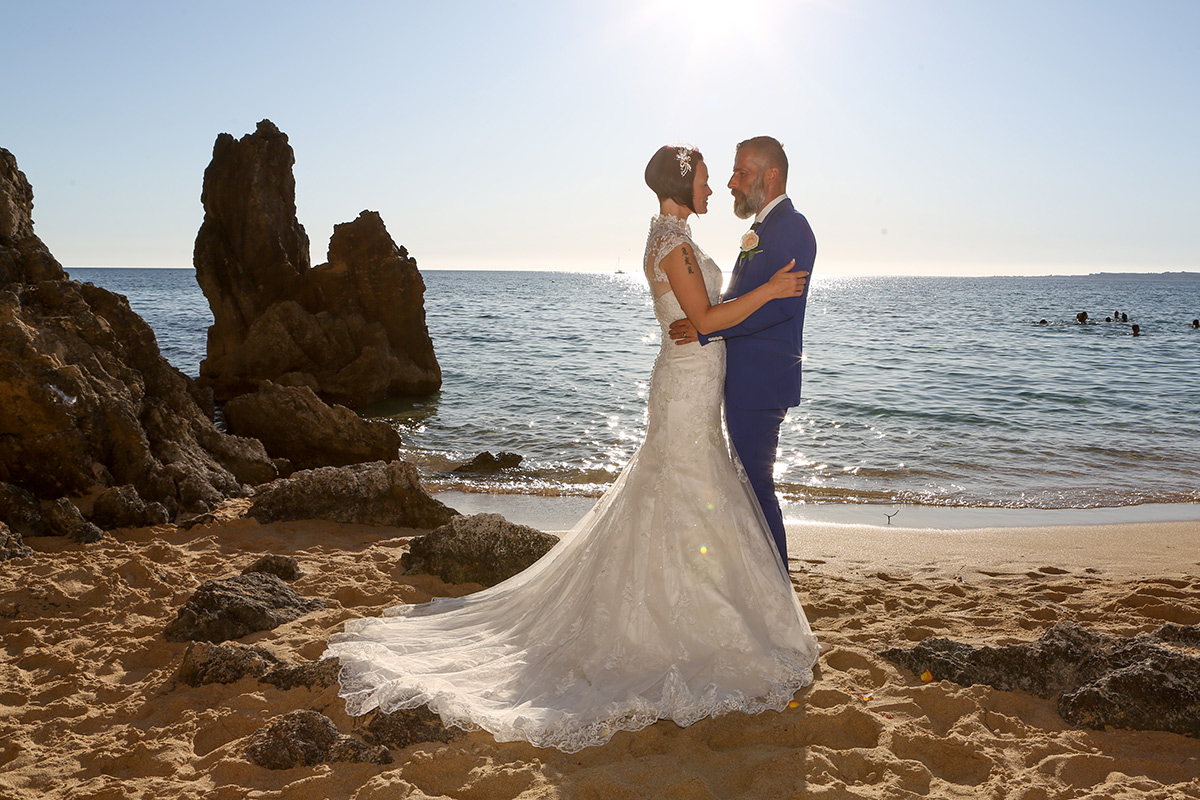 After months of preparation with ourselves, Kostas and Annie we arrived in Kefalonia for our wedding on the beach followed by a meal at Andromeda. I have to say the day was amazing and thanks to Kostas and Annie went exceptionally smoothly, I would recommend these guys to everyone, they are lovely, friendly people and simply amazing and we can't thank them enough. The food and service at Andromeda is fantastic. We had the most special day.

We also stayed in the Andromeda villa which is amazing, fantastic pool, spacious and a very high standard throughout.
THANK YOU X X X
MARIUS & LIZ
---
"OUR SUPERB WEDDING AT ANDROMEDA"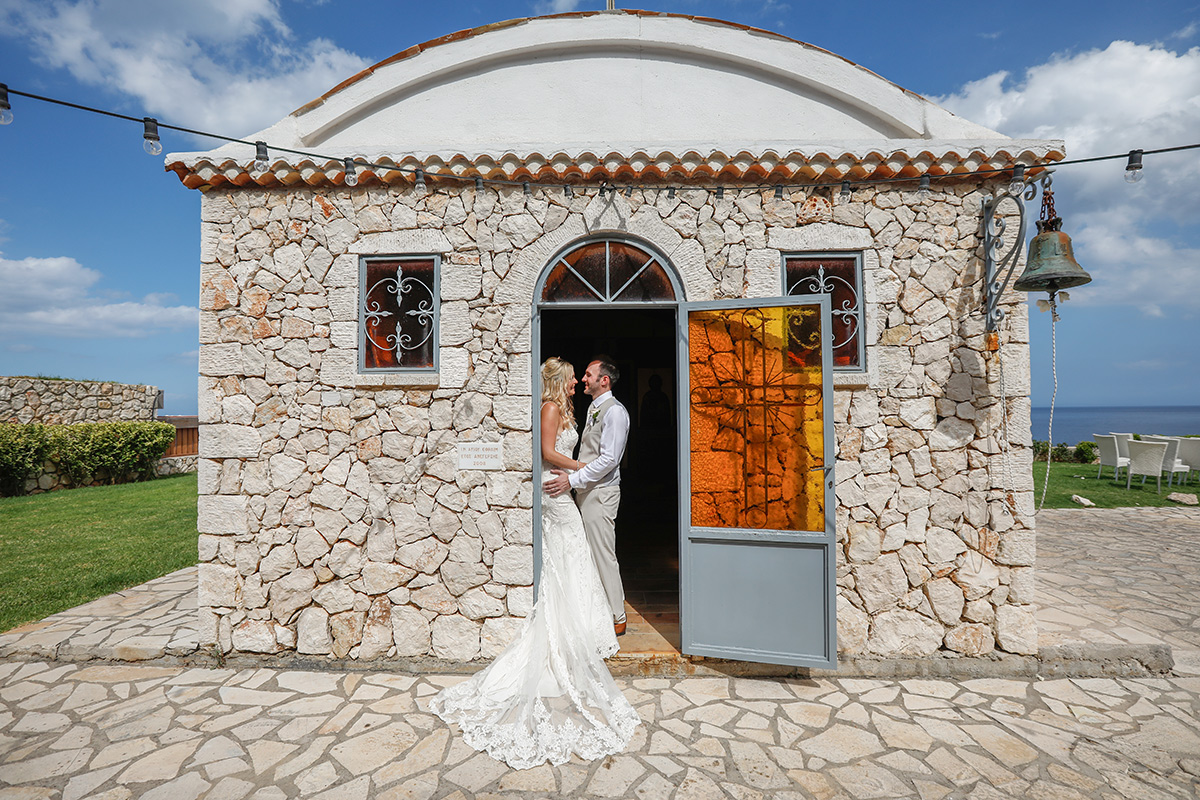 We first visited Andromeda for dinner last summer and were awestruck by the incredible views, amazing food and service. So when we got engaged at Christmas we knew straight away where our wedding was going to be.


From the moment we contacted Kostas and Annie at Kefalonia sun and sea weddings we have felt completely reassured and confident on our wedding planners to complete our dream wedding. As we didn't want to be in one venue all day, Kostas offered us a wealth of suggestions and also lots of different packages to fit all budgets and size of wedding. He really does make you feel that anything is possible! We decided to add on a separate ceremony venue and a boat transfer to make it a really bespoke wedding. It was absolutely fantastic and we never could have planned it so seamlessly without him.


All communication with Kostas was clear, consistent and honest and he made the whole process so easy for us. Anything we wanted we just had to email and the request was met. We were really made to feel like our wedding was the only one he was sorting- although this certainly was not the case!


Our package included 2 of the best photographers on the island, a videographer with a drone, a top florist, a 5 course meal and a 6 hour drinks package amongst lots more. We've had thousands of photos and a trailer for our wedding video! When you book a package wedding abroad you do worry exactly which suppliers will be used (I've heard horror stories about those who have used UK tour operators) but the quality of the ones Kostas uses was clear for all to see. It really is best to trust the locals!

Our guests were completely awestruck and actually think it cost a lot more than it did and probably think it took us a long time to plan. Andromeda was the perfect reception venue.
Our guests absolutely raved about the quality and quantity of the food, loved the gorgeous setting and had a fabulous party well into the night.


Following the wedding we returned to Andromeda for our one week anniversary and found that Kostas had rushed the photographers to complete our photo album so that we could have it on our visit. Just a really special touch for the last night of our wedding holiday and an example of how you are looked after. As always the food was brilliant!


I cannot recommend Andromeda Centre highly enough, and certainly recommend Kefalonia Sun and sea weddings if you are considering your own Big Fat Greek Wedding! It was everything we dreamed of and more.
PAUL & JADE
---
"WORD CAN'T DESCRIBE OUR WEDDING"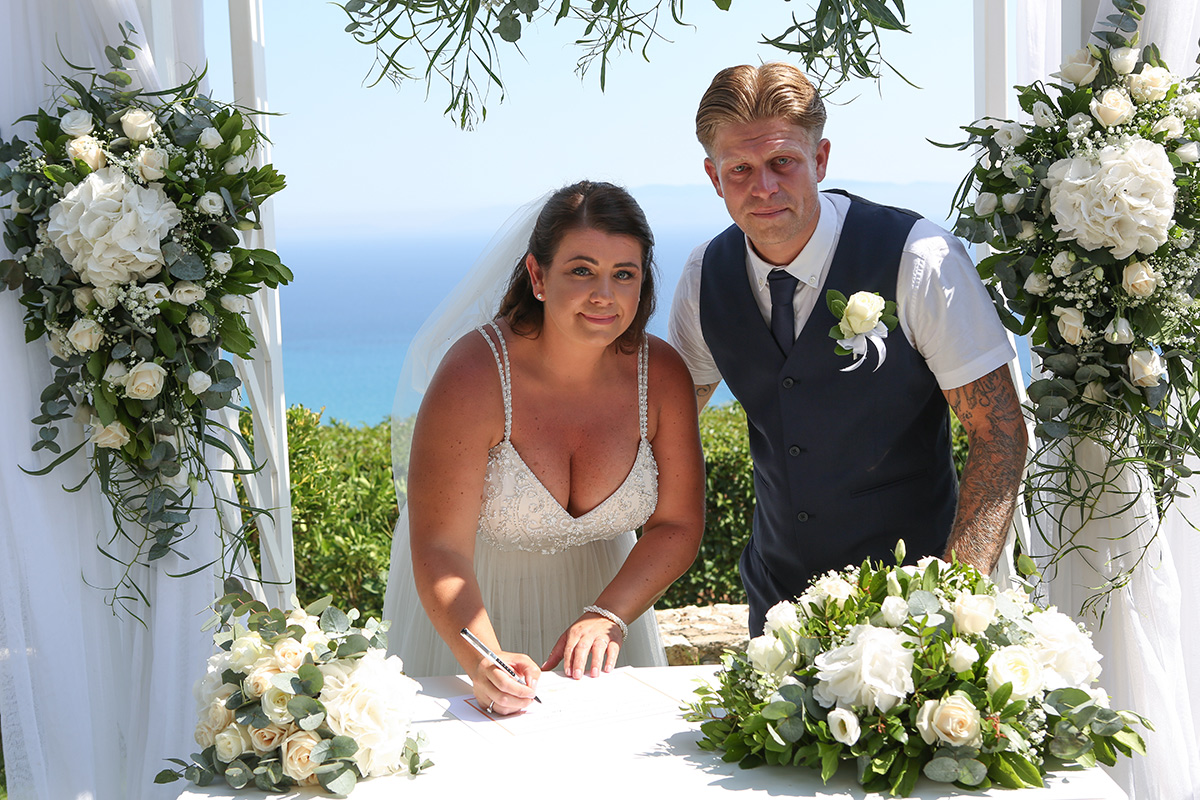 A couple of years ago (in 2017) we attended a friend's wedding here a knew it was the place for us. Our wedding planners couldn't have been more helpful and made our day any more perfect! From the stunning venue, delicious food and our amazing wedding singer it was better than I could ever imagine. Everything was planned to perfection and it showed, our guests have not stopped talking about it. We're back there tonight for one last visit before we go home but will definitely be back next year!!
BRAD & CARLY
"OUR DREAMING WEDDING"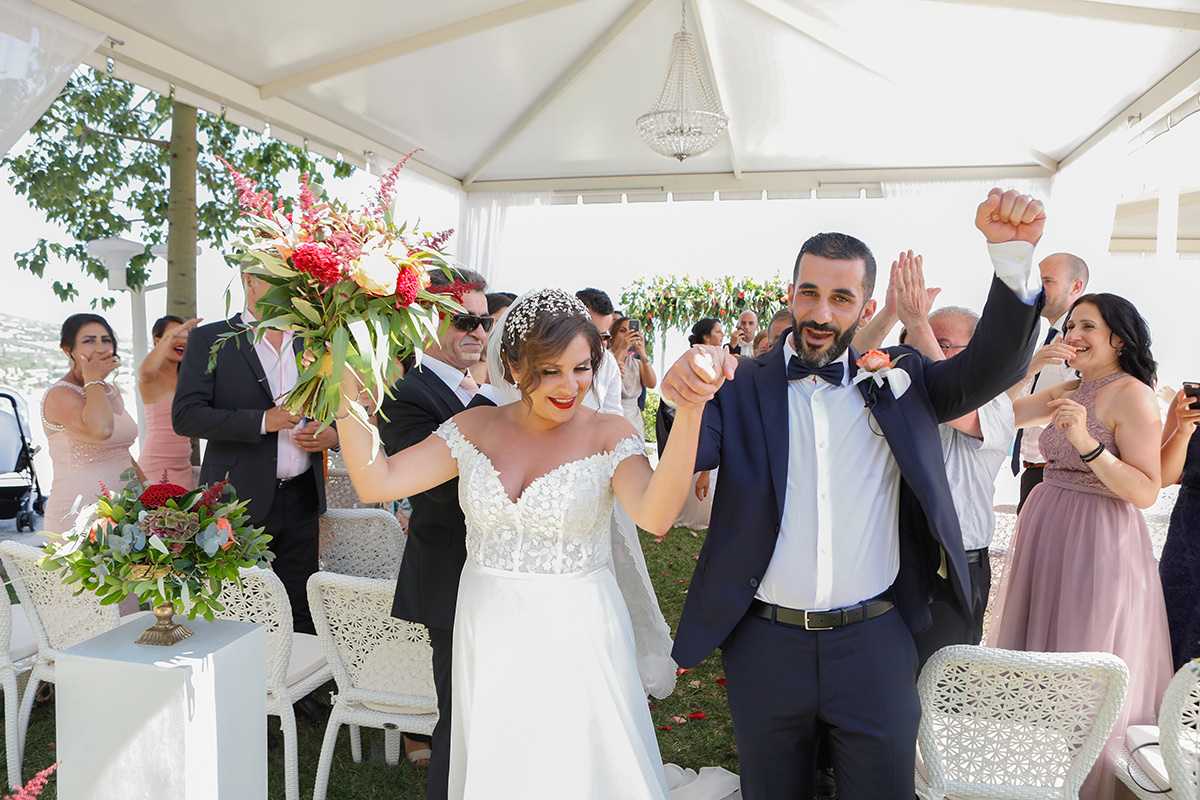 We can´t thank Kostas and Anna enough for planning and making our dream wedding come true!

They are so professional and we are so satisfied with them. From the very first day when we started planning the day. They are easy to get in contact with, always. They listen to all your requirements and help you with everything, they make everything so simple. On the wedding day I don't have words to describe it with, everything was simply perfect and they took care of the whole day in the best way possible. Everything is top notch, food, planning, photographers, details...Even our guests was pleasantly surprised. I highly recommend them to everyone,

Thank you again best Kostas and Anna !
ELIAS & SHENE
---
"KEFALONIA SUN AND SEA WEDDINGS – KOSTAS AND ANNIE"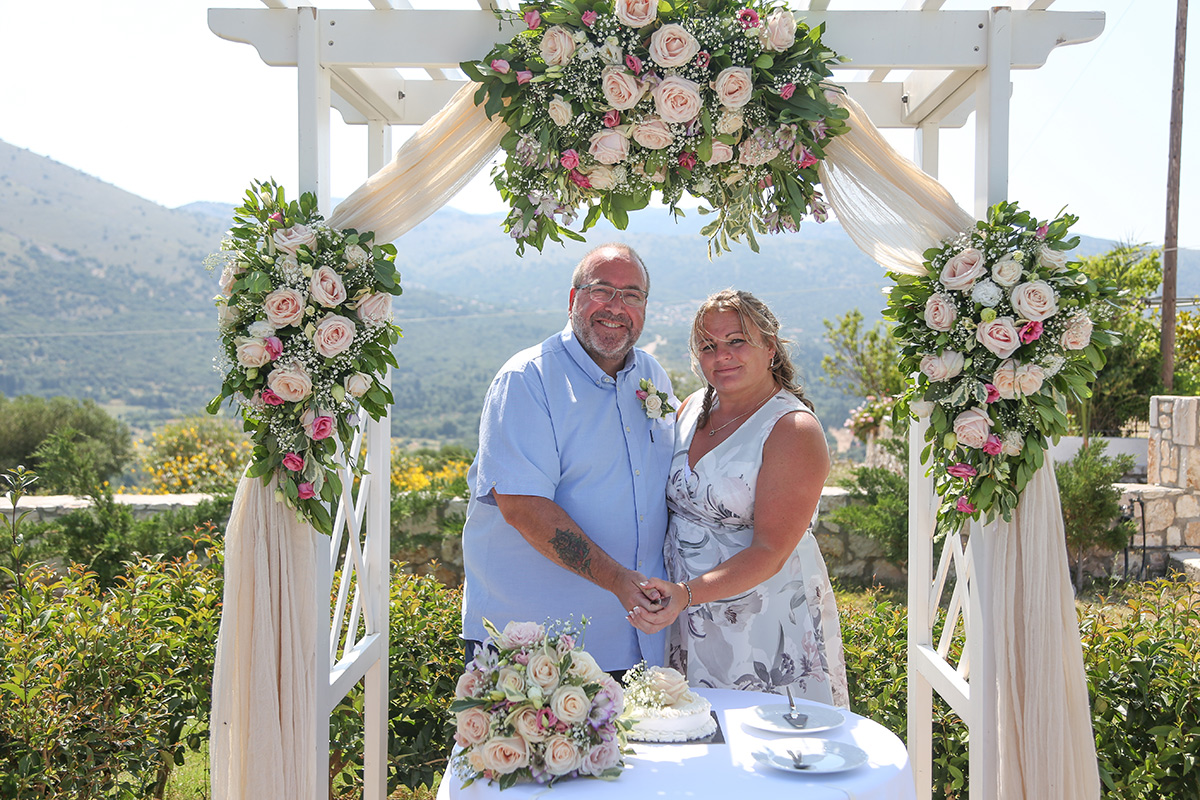 Myself and wife were married in June 2019 in Kefalonia organised by Kostas and Annie at Kefalonia Sun & Sea Weddings and we couldn't be more happier with the amazing service we received. From the initial meeting in 2018 all the way up to our wedding day a year later the communication from Kostas and Annie was faultless. Any questions we had and any detail we wanted changed was no problem. All the legal paperwork procedures for us to follow in the UK was expertly provided by Kostas, and once all in place in the UK, the documents were sent out to Kefalonia and were taken care of by the team including the legal ceremony at the local town hall in Agia Efimia.

Even though it was a small intimate wedding at a private villa, they made it very special and the day could not have gone any better. Thanks again Kostas and Annie for making our wedding so very special. And also a big thank you to Maria the photographer who captured the day wonderfully and to Sue our celebrant.
NEIL & STACEY
---
"GLENIS & STEVE WEDDING 3rd JULY, 2019"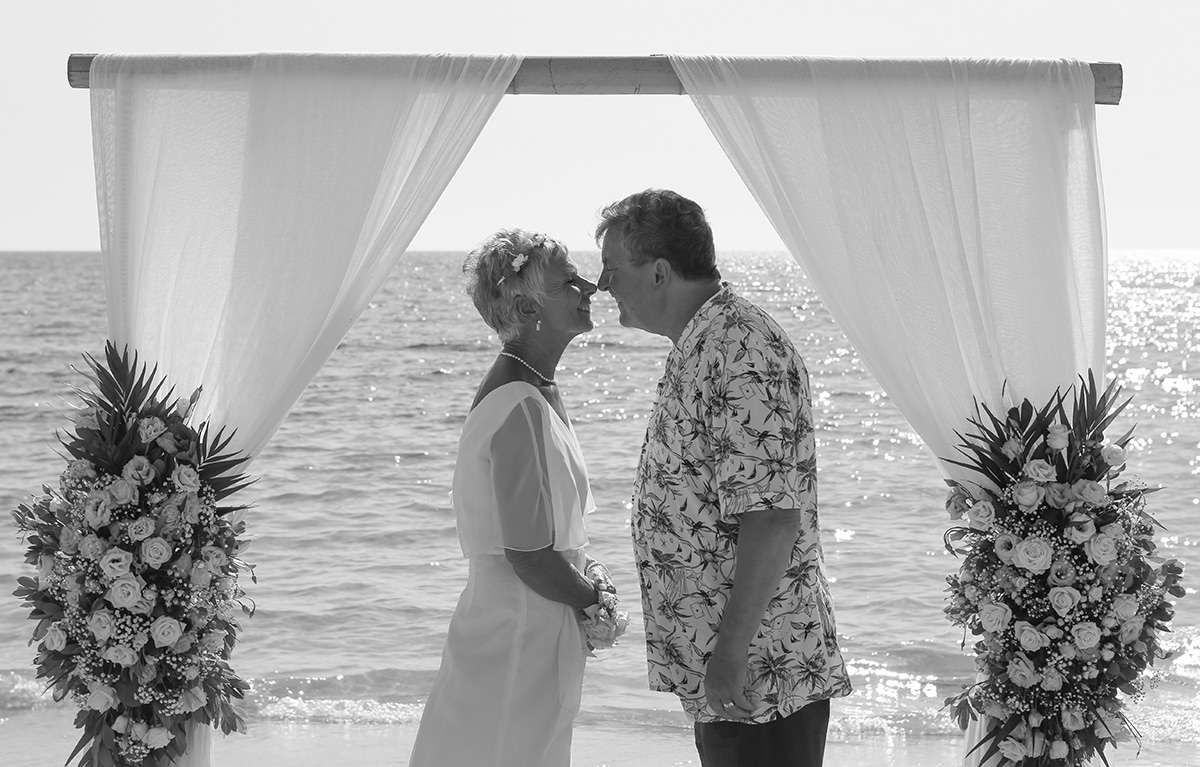 Just had our wedding a beautiful day on the beach close to Lassi organised by Kefalonia Sun&Sea Wedding Planners.

Kostas & Annie were excellent from start to finish. Their guidance with the planning months and months before was faultless, their step by step guide to the documentation procedure was perfect, precise and very easy to follow and their input on making our very informal beach wedding was superb. The after party held at Andromeda was amazing the views, the food and excellent service well beyond expectations, Kefalonia is a beautiful island full of beautiful people it couldn't have been better.
STEVE & GLENIS
"THE PERFECT WEDDING AT ANDROMEDA"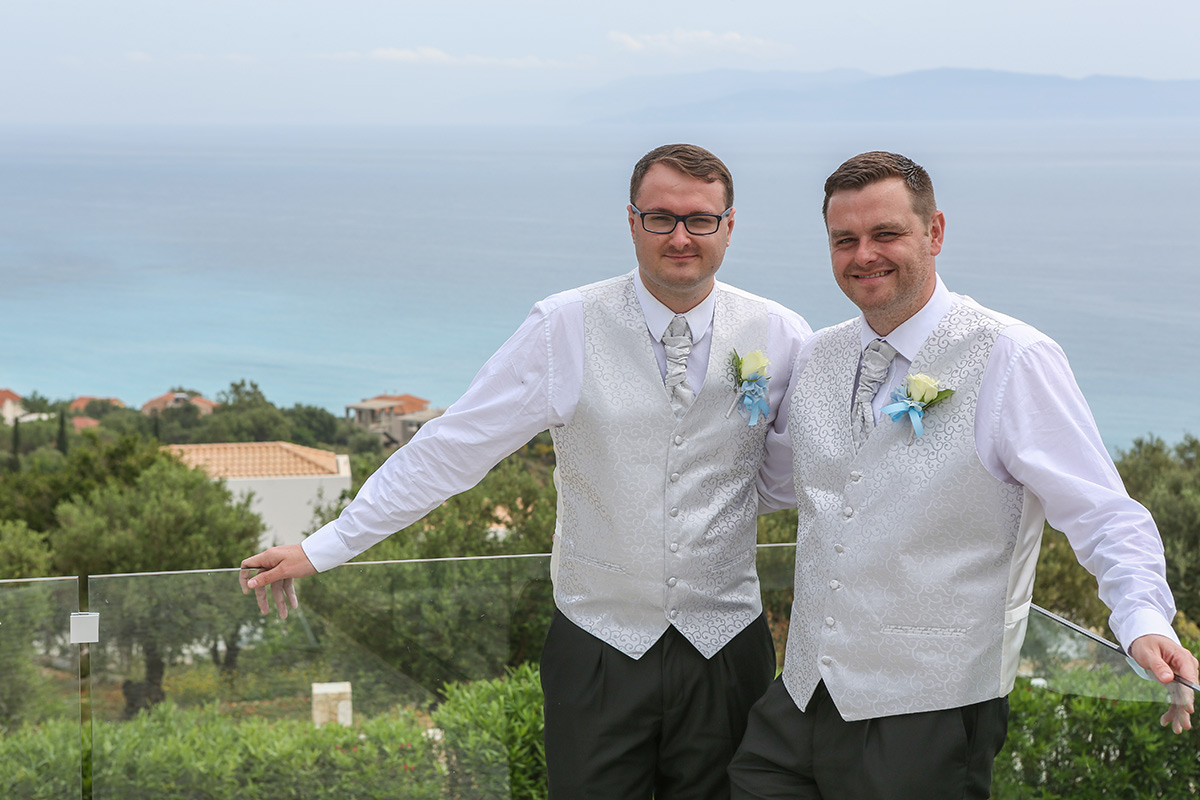 We held our wedding with Annie & Kostas in May and they made sure they entire day was perfect.


Ever since the first contact last year they have made the whole process so easy, their communication is top notch and because of how they handle everything the whole planning side felt like a breeze! They tailored the package so that it was perfect for us and took so much of the stress out of the day.


The venue at Andromeda is stunning and the views from the wedding ceremony location are breathtaking, one of the few places where pictures really don't do it justice! We struck it very lucky on the day of the wedding as the weather was perfect for the outdoors ceremony, the day went perfectly without a hitch and everyone had an amazing time.


The cost of the package vs what was delivered is absolutely unbelievable, we got to the end of the day thinking that if we'd paid double the price we would have still felt it was great value for money. You could not plan a wedding in the UK of this quality for anywhere near the cost, so to anyone who is on the fence about it - do it! I could not recommend Annie & Kostas enough and thank you both for making our wedding such an unforgettable day.


We chose the Greek BBQ menu for a bit more of an authentic Greek feel, and the food was brilliant. The photographer and DJ included in the package were great, tailoring everything to what we wanted and they both ensured we came away with plenty of memories that will last a lifetime (and plenty of pictures to prove it!), with some brilliant shots from our session at Lourdas beach.


Thanks again Kostas & Annie, see you when we're next in Kefalonia!
KEVIN & ROSS
---
"WEDDING AT APOSTOLATA"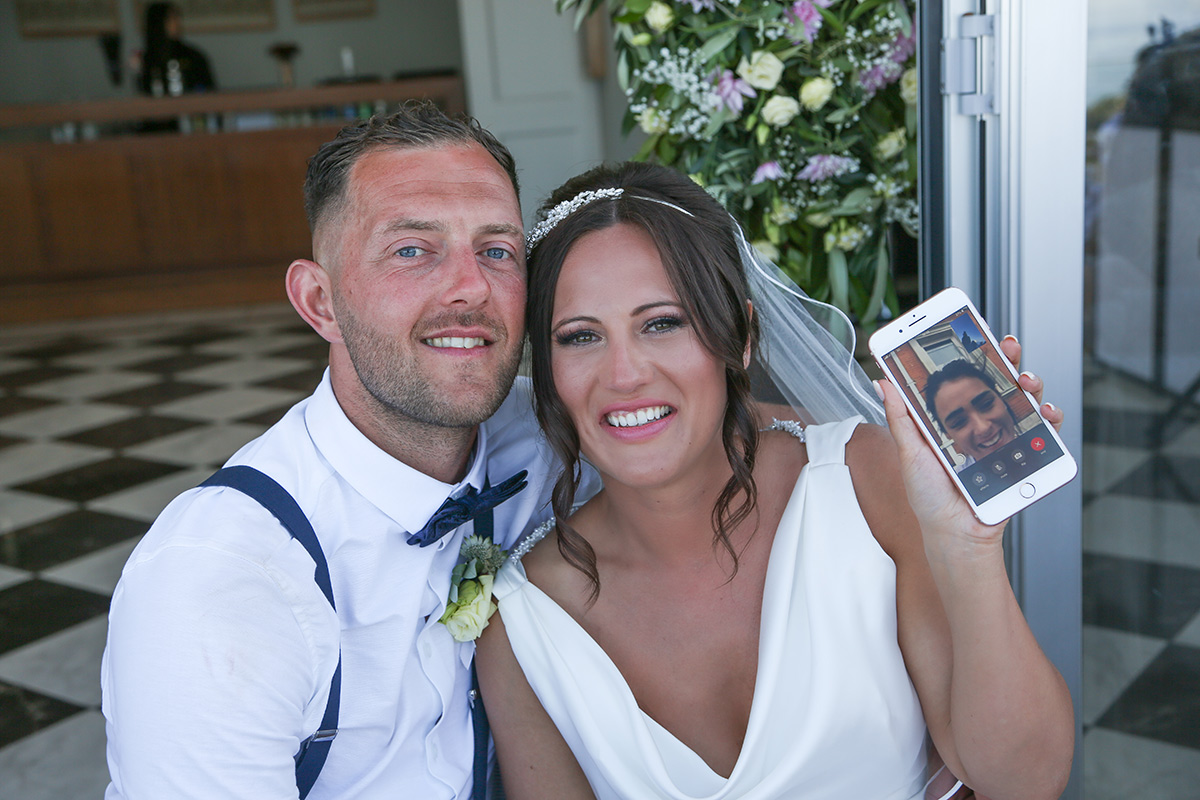 Annie and Kostas were our wedding planners. Our first ever wedding and being abroad we were a little bit nervous about getting everything right. Annie and Kostas know exactly what they are doing and advised us of every little detail. All the paperwork was easy as they told us exactly what we had to do. Planning everything felt so easy and at a very reasonable price. As part of the wedding package we got our cake, dj, photographer, Ceremony, flowers and make up. It was all amazing. Everyone involved from the show to the make up artist were so lovely kind and helpful. The photographer herself was amazing - made the picture taking enjoyable and she was brilliant with young children.


I