KEFALONIA WEDDING VENUES
LIXOURI WEDDINGS
Palliki Peninsula The rival city of Argostoli, the island's capital that lies across the bay, Lixouri is Kefalonia's second largest town and is the commercial hub of the Paliki peninsula. Lixouri is the hometown of the distinguished Greek poet Andreas Laskaratos, whose statuestands with its back turned towards Argostoli, illustrating the age-old rivalry between the two towns. The inhabitants of Lixouri are humorous and creative, and boast a significant musical tradition. It was here that the first Philharmonic Orchestra of Kefalonia, one of the oldest in Greece,was founded. Earthquakes have destroyed the town twice, and the surviving historic buildings are very few. Among them is the two-storeyneoclassical building which houses the Iacovátios Library.
The western-most part of Kefalonia, Palliki features beautiful beaches and wild landscapes.
You can choose among different beaches for your symbolic wedding ceremony with unique features like: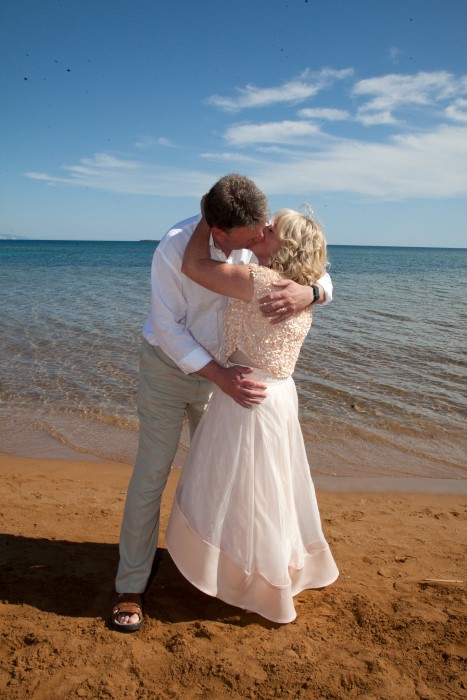 Xi Beach
Xi beach is the exception compared to other beaches in Kefalonia,because it has no steep cliffs or deep waters. Instead, it is very easily accessible. Its waters are very shallow and thus more than suitable for children. What makes the Xi Beach so unique and extremely impressive is its reddish color of sand. Because of its clayey composition, one can enjoy a natural and free spa session, as it is said to have cleaning and tightening effects to the skin. The beach is well organized and you will easily find a parking place. For water sports lovers, Xi Beach offers a big variety (Jet-Ski, Water-Ski etc.).Around the beach there are many beach bars,restaurants and tavernas where you can have your wedding party!
Petani Beach
''Petani'' is a word of Homer, meaning an area with abundant water throughout the year. The Petani Beach consists of fine white pebbles and crystal clear turquoise waters. The path to the beach is just as unique as the beauty of the whole of the landscape which literally leaves the visitor speechless. The beach is fully organized with canteen, sun beds and many restaurants on the seafront. You can have your after wedding photography, while admiring the breathtaking sunset!
Vraxynari Beach
An unrivaled sandy beach on the island's western coast, with emerald-green waters and an impressive sunset view. Swim in its crystal clear waters and explore its rich and varied seabed. The beach is flanked by a small rocky outcrop which separates it from the adjoining beach on one side, and a low peninsula that extends toward the horizon on the other. The bowl-shaped cavities in the rocks trap the seawater as the waves wash over them. When the seawater evaporates in the scorching sun, what's left is pure sea salt (afrála). Near the beach there is a perfect reception venue the taverna "Remetzo" ,well-known for the home cooking of Mrs.Katerina and for the great sunset view!